The Trades Union Congress has in a historic move, honored Kwabena Ampofo Appiah, Managing Director of the rejuvenated State Housing Company at the 2021 May Day celebration which saw President Nana Addo Dankwa Akufo-Addo in attendance.
The TUC singled out Mr. Ampofo Appiah for applause for his sterling performance by turning around the fortunes of SHC, a feat no Managing Director of the company has ever achieved.
In a citation presented to him by President Akufo-Addo, the TUC recognized Mr. Ampofo Appiah for his "INVALUABLE CONTRIBUTION TO THE UNION IN YOUR CAPACITY AS THE MANAGING DIRECTOR, STATE HOUSING COMPANY LIMITED".
Every year at May Day celebrations, Unionized Labour selects outstanding heads of institutions for national recognition and applause.
His national recognition doesn't come to many Ghanaians as a surprise as SHC has occupied the media space with positive stories over the past few years since he assumed office.
"We are happy that our MD has been awarded for his performance. He has really turned things around since 2017. We hope he continues resting on his oars" some staff of SHC told myabclive.com.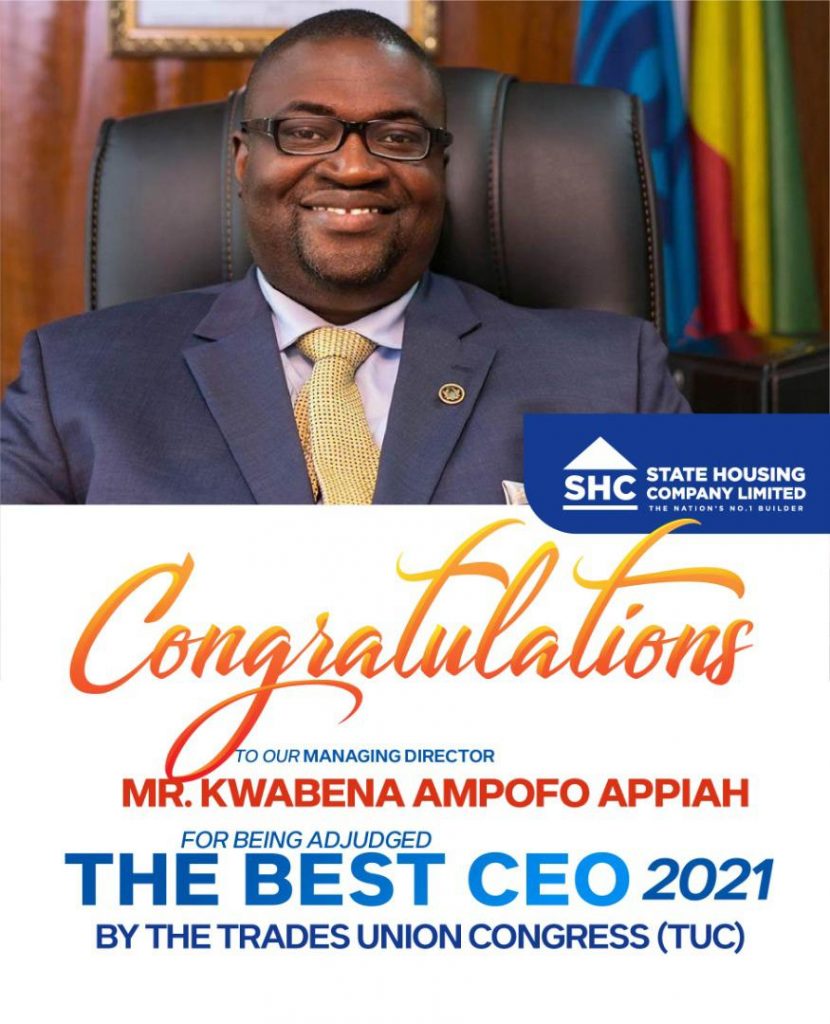 Speaking as the Special Guest of Honor, President Nana Addo Dankwah Akufo-Addo expressed his profound gratitude to Ghana's workforce for their immense contribution to keeping the country's economy afloat during the Covid-19 pandemic.
According to him, their commitment and dedication to service has been significant in adding momentum to the drive towards achieving the Ghana Beyond Aid agenda.
This year's May Day celebration was under the theme "Economic Recovery in an Era of COVID-19: The role of Social Partners".
The day was marked at the forecourt of the refurbished TUC Head office in Accra.